How does the Non-Competitive TennisDC Partner Program Work?




Partner Program Basic Concept

We connect you with up to 30 Men and/or Women based upon your playing region and skill level. These are tennis players who love the sport and joined the program to meet up with you on the courts. The Partner Program is less competitive as there are no champions crowned and no league standings. The program provides dedicated tennis partners who want to meet up with you on the courts. When you are active in the program you'll just go to the Partner Program page to access the players list. Or just download our mobile apps to access the program.


TennisDC's tennis partner program is broken down to these playing regions: DC NE, DC NW - Dupont Area, DC NW - Georgetown Area, DC NW - Rock Creek Area, DC SE & SW, MoCo - Bethesda Area, MoCo - Rockville Area, MoCo - Silver Spring to Wheaton, No. VA - Alexandria Area, No. VA - Arlington Area, No. VA - Fairfax Area, No. VA - McLean Area, No. VA - Springfield - Lorton, PG Co. - College Park to Hyattsville, PG Co. - Ft. Washington, PG Co. - Heights to Temple Hills.

Players purchase the number of months they want to be in the program. We do NOT do re-occuring billing meaning you do not get charged monthly to be in the program. The Partner Program is ongoing and remains open as long as the weather is good enough to play outdoor tennis. This is NOT a doubles program but we do let players present if they have an interest in playing doubles so other players can see this.


Your Task-"Scheduling and Meeting up with the other players"

You meet up with the players to play either a match or just hit around. TennisDC's objective to ensure players are actively playing. We try to use an incentive system to push players along. Anyone who plays 3 different partners in a calendar month will get another month of service for free.




Where to Play?

The league strongly suggests that players jointly choose a tennis court location convenient to both. We now geo-locate your program contacts which means you should receive partners closer to your preferred playing location. We provide an extensive list of tennis courts for each area, including details such as # of courts, lighting, hitting walls and links to google maps for directions. Members can submit court ratings on the overall condition, surface, lighting quality, facility management, and general comments regarding specific courts. This will provide players with up-to-date court information on new and existing courts. We encourage members to keep this list fresh and up-to-date.




Target Audience

The Partner Program is for all level players. We encourage beginners to play in the Partner Program prior to playing in a league. We track the results of the Partner Program and may make skill rating adjustments based upon scores if necessary. Our program ensures fun, well-matched tennis partners for players of all levels.
Admin Note: This program typically has players from 2.0 to 3.5+ level enrolled. In most locations 4.0 and 4.5+ level players will not find this program worthwhile.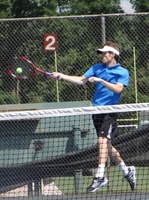 Member Since 05/17/09
There are so many levels of tennis, and Tennis DC is helping me find them all.
Cost to Participate
The cost will be no greater than $9/month to participate in the program. Any player that plays 3 or more different partners in a calendar month will get another month of service at no cost. In some *NEW* cities the program will be free as we are trying to build a dedicated tennis playing community. For details on your city please just refer to your homepage.
Tennis League Network Donations
Our business charter is based upon doing the better good for players health and society. For 2016, we will continue to donate 2% to 4% of the Tennis Partner Program Entry fees to Cancer Research Institute. As of 8/29/16 we've donated $11,000 in all.
Join Today!!
So
and we'd be happy to find you dedicated tennis playing partners.